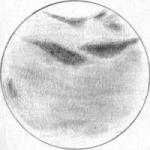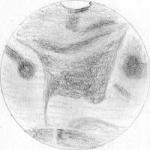 Mars Observing FAQ and Links: 2007 Opposition
These sketches represent what you might see in a small amateur telescope during this opposition. For more, and descriptions of features, see Jane Houston Jones' Mars Sketch Page, or my own Mars sketch page.
This page describes the December, 2007 opposition of Mars.
(Last updated November 7, 2007.)
Closest approach is on December 19, 2007. Opposition is on Christmas Eve.
Don't believe the hoax!
There is a message floating around the internet about an amazingly close Mars opposition where "Mars will be as big as the moon!" That message is a hoax, and it's full of misinformation. It describes an opposition that happened in 2003. It's over. For more information on the hoax, see my article on the evolution of the hoax, or the Snopes.com page.
This year's opposition will not be as close as the 2003 opposition. But here's the good news: For nothern hemisphere observers, Mars will soar about high in the sky as it gets -- 80°!
That makes a huge difference in the steadiness of the atmosphere. Even though the disk of Mars will be quite small, only 15.9" (vs. 25" in 2003 and 20.2" in 2005), the steadier seeing may allow use of high magnification, and you may be amazed how much you can see on this small planet. It will reach magnitude -1.6 at its brightest.
This opposition is somewhat unusual in that we'll be seeing Mars nearly equator-on. So we should be able to see both hemispheres fairly equally, and may even be able to see both polar caps at once. Mars will hit its equinox (autumnal for the southern hemisphere, vernal for the northern) on December 9, so the north polar cap will be very prominent while the southern cap will be quite small. Throughout December we should be able to see the hazy "north polar hood" gradually break up to expose the brighter polar cap beneath.
If you have questions on observing Mars, or answers which you think belong in a FAQ, please mail.
---
If you prefer, you can skip the FAQ and jump directly to the links.
Mars Observing FAQ
Q. What's an opposition, and why do I care?
A. Opposition is when an outer planet is opposite the sun as seen from earth; i.e., when it is closest to us. A planet appears bigger at opposition, and details are easier to see than at other times. In the case of Mars, the difference in size and visible detail is dramatic.

Note that the month or so after the opposition is also a good time to observe; although the planet will be starting to recede, it will be rising earlier in the evening than at opposition, which makes it easier for most people to observe it when it's high in the sky.

Q. What sort of equipment do I need to look at Mars?
A. Just about any telescope will do. I've seen some detail on Mars, during the 1997 opposition, with my 4.25" f/4 reflector, though that's certainly not an ideal planetary telescope. A good 6" f/8 reflector or 4" refractor should show a lot of Mars detail if the air is steady and if the telescope is in good collimation. I've also gotten excellent views of Mars through big dobsonian reflectors: although a clock drive is convenient for high magnification observations, don't let that stop you if you happen to have a dob. In 2003 I've done most of my observing so far with my homebuilt 8" dobsonian.

Binoculars won't show you any more than you see with the naked eye: just a bright red point.

Steady air and magnification are more important than telescope aperture, ultimately; you'll have the best luck when Mars is high in the sky, and it may help to find a location at high elevation or at least one where you're not looking over houses, cars or asphalt.

Q. Do I need filters to observe Mars?
A. No, but they can sometimes help in bringing out detail. They're especially helpful if you have an inexpensive refractor which has some chromatic aberration (meaning that it shows some colored fringes around bright objects): filters can dramatically cut down the color fringing. See specifics on the ALPO page.

Q. What can I see with a small telescope?
A. Hellas (a bright impact basin), some dark features like Syrtis Major, Mare Erythraeum, Mare Acidalium, and Niliacus Lacus, more subtle dark features like Margaritifer Sinus, Sinus Sabaeus, Lacus Solis (the "Eye of Mars"), and the polar caps.

With filters, you can sometimes see clouds and hazes of various types. With exceptional seeing, there are many other light and dark features which become visible, and you can look for details on the edges of the features, and for clouds over the Tharsis volcanos. You may even see parts of Valles Marineris, near Lacus Solis.

Sorry, you won't see canals -- there aren't any. But there's plenty of other stuff to look at!

Q: Why can't I see anything at all?
A: Mars is small. Really small. The details are smaller still. You really have to practice and have patience. The details will come, but don't expect them to be easy. Try for the polar cap first: that's usually the easiest to see. Then try to see some dark markings on the planet. The more you observe the planet, the more you'll learn how to see the detail on it.

Q. How can I train my observing skills?
A. Observe a lot -- start well before the opposition if you can, even if Mars is small or low in the sky. That way, by opposition you'll be ready to see all the detail which is there.

Also, try sketching the detail that you see -- even if you don't consider yourself an artist (I'm certainly not), sketching planetary detail really helps you think about what you're seeing, as well as being fun in its own right.

Q. How do I figure out what part of the planet I'm looking at and how it's oriented at the time when I'm looking?
A. That's one of the tricky parts of observing Mars, especially during this opposition when the polar cap is expected to be inconspicuous.

One way is to use a Mars globe, if you can find one (see the Links section for some suggestions).

The other, and easier, method of orientation is to use a computer program. See the software links below for programs which show Mars rotated correctly for a particular time and date.

Q. Can I see Mars' moons?
A. The moons should, in theory, be visible in large amateur telescopes (say, a 10" or so), but they're quite difficult due to their closeness to the high surface brightness image of Mars. Phobos is brighter, but Deimos is farther from Mars. It helps to move Mars just out of the field, or to use an "occulting bar" in the eyepiece to block out the brightness of Mars. It's a challenge, but it's definitely possible!
---
| | | |
| --- | --- | --- |
| | ... Mars Links ... | |
Labelled Mars Maps Online
Unlabelled Mars Maps Online
Places to buy Mars Maps and Globes
Here's everything I can find on sources for Mars maps and globes -- not much, so please let me know if you have something to add! (Thanks to Mike Koop for a lot of the research already here.)
Replogle makes my favorite Mars globe; it's 4", shows albedo features and used to be sold in toy stores in an inexpensive set with a (marginally useful) moon and (fairly poor) earth globe. Unfortunately it has become very difficult to find; I've heard that it's possible to buy these from Replogle in quantity and someone may be reselling them on ebay, so try searching ebay for "mars globe".
Inflatable Mars globes: I got one of these at RTMC. It doesn't have many features labelled, but you can correct that with a magic marker. Hint: stick a red flashlight up against one side of it and the whole balloon turns an eerie red-orange -- great for public events. I bought mine from the Astronomy To Go booth at RTMC; they don't have an online store but apparently you can mail order via phone or email.
Hugg-A-Planet Mars Stuffed, and looks like the labelling is quite good.
WARD's Natural Science" Mars soil kit comes with a globe that looks suspiciously like the little Replogle one, plus a good-looking map. Sure would be nice if you could get just the globe and/or map!
The RASC Observer's Handbook has a decent B&W Mars map and lots of observing info (lots of great info on observing other objects, too).
Sky Publishing Mars Globe is still available, but it's large and expensive. They also have a Mars Topography Globe (false color, not as well suited to observing) Their flat Mars Map is out of stock -- wouldn't you know it!
Observing Info on the 2007 Apparition
ALPO Mars Section, including a Yahoo mailing list, observing alerts, and other information.
General Info
Software packages which shows Mars' rotation and surface features
Any decent planetarium program will show Mars' location in the sky, but not many show its surface features and correctly calculate which features are visible at a particular time. Here are some which do:
Online software
---

Top of ShallowSky.com
General Astronomy Links
mail comments